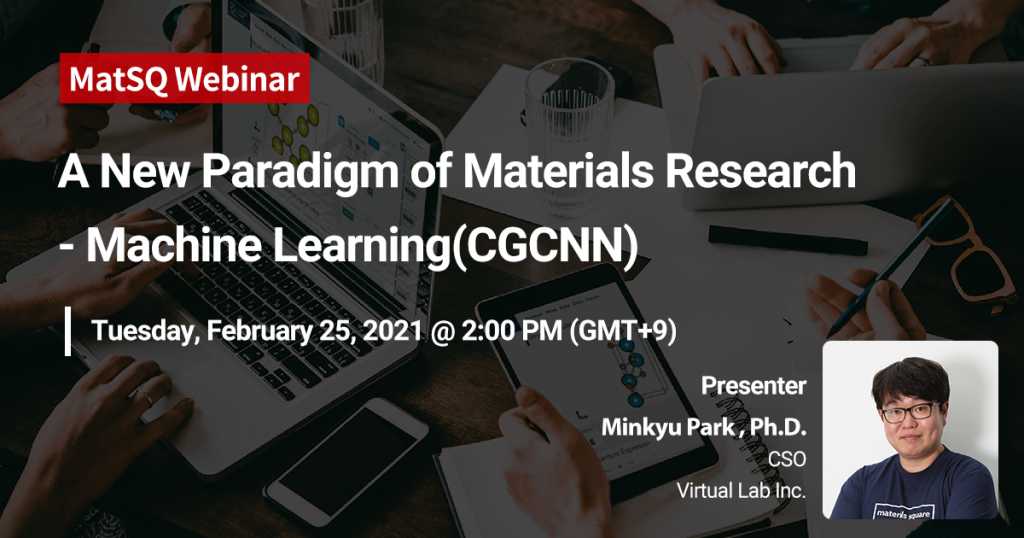 A New Paradigm of Materials Research 
– Machine Learning(CGCNN)
Join the MatSQ 109 webinar to learn how to use CGCNN feature on Materials Square. In this webinar, you'll learn the basic theory of machine learning(ANN, CNN, and GNN) for materials simulation and how to use CGCNN module on MatSQ.
◼︎ Presenter: Minkyu Park, Ph.D. (CSO/Virtual Lab Inc.)
◼︎ Contents:
Graph Neural Network(GNN) and Convolution Neural Network(CNN)
Crystal Graph Convolution Neural Network(CGCNN)
Tutorial: CGCNN on Materials Square
Please download the files below for a tutorial session.
Structure file: https://bit.ly/3dGrQip
Training set: https://bit.ly/3bRvQKv
Presentation file: https://bit.ly/301CTue